How to apply the Intense Self-Tanning Spray?
Exfoliate with the MAGIC PERFECTION SCRUB. Spray directly and evenly onto dry, clean skin, keeping a distance of about 30 centimeters from the area to be tanned, using "W" movements. Let dry without spreading. Avoid contact with water or sports activity from 6 hours after the treatment. Apply 2-3 times per week.
Easy to use, the INTENSE SELF-TANNING SPRAY instantly gives you a natural, streak-free sun-kissed complexion. Its formula enriched with Aloe Vera and nourishing and anti-aging components gives you tanned and luminous skin, whenever you want.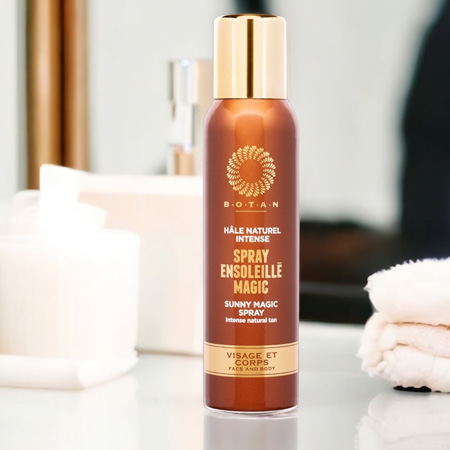 Treat yourself to a natural tan, in seconds whenever you want!
It is the ideal cosmetic to use all year round and to always keep at hand. Perfect during the winter months to restore color and radiance to the skin, it is absolutely essential in spring and summer, before the holidays but also after, to intensify and prolong the tan. Lightweight and ultra-convenient, the spray applies in seconds and is instantly absorbed, allowing you to dress immediately after application.
Why use the Intense Self-Tanning Spray?
INTENSE SELF-TANNING SPRAY is the secret to tanned, smooth and luminous skin, my beauty routine for gorgeous skin. Every 3-4 days, simply spray lightly, maintaining a distance of about 30 centimeters from the skin, using "W" movements. The fine mist settles without spreading. Let the magic happen. Apply in the morning or evening after showering, no need for foundation anymore for a healthy glow all day long. After about 3 days, the result fades gradually and evenly.
The whole body is dressed in a luminous and uniform satin veil, without danger and without effort.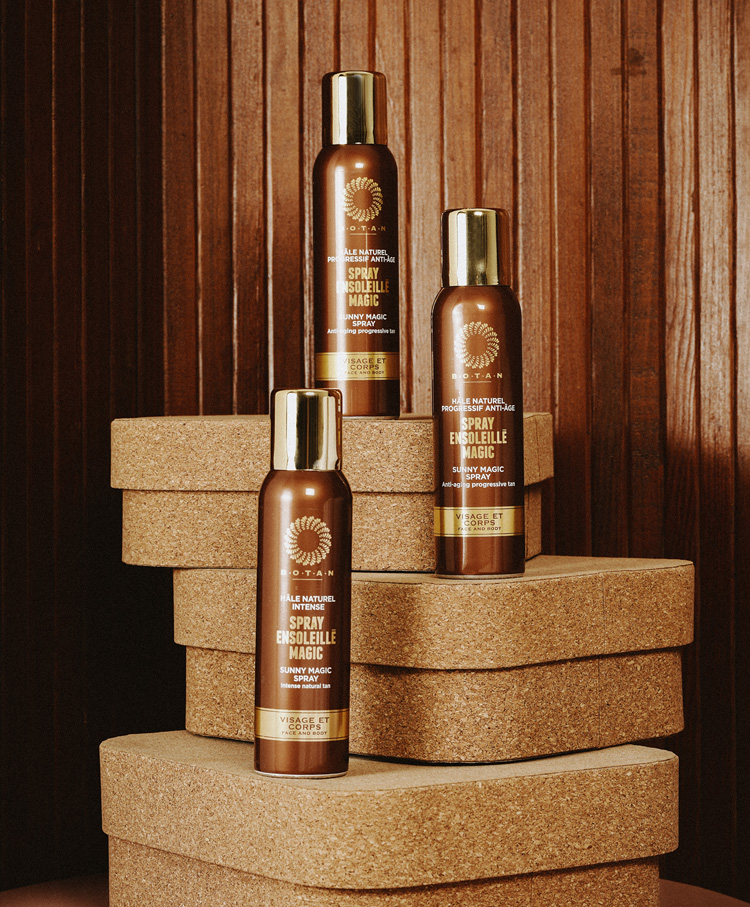 On a daily basis, bring out your beauty with a treatment that respects your skin.
Simple and effective application,
Natural and lasting tan in complete safety,
Without streaks or streaks,
Hypoallergenic fragrance,
Enriched with moisturizing and softening Organic Aloe Vera.
360° Technology and BOTAN Innovation
Intense Self-Tanning Spray has a nozzle specially designed for micronized, uniform and homogeneous misting, in all positions. In an environmentally friendly aluminum compressed air spray can, it does not contain any polluting gases.
Ultra-economical, you have at least 6 to 7 months of use, misting on the face every 3-4 days.
Suitable for all skin types from normal to sensitive. Avoid contact with eyes.

Children (0-16 years old): not assessed
Pregnant women: No risk identified to date
Adults: No risk identified to date
Source : UFC – Que choisir