How to apply Progressive Self-Tanning Cream?
Apply cream to the applicator glove or the back band applicator BOTAN and apply to dry, clean skin, evenly using circular movements. Let dry. Avoid contact with water until the tan has intensified. In the event of direct application with the hands, wash the palms and between the fingers immediately afterwards. According to your desire, the tan can be intensified with a new application spaced 6 hours apart.
Even on the lightest skin, from the 1st application.
With the BOTAN Self-Tanning Cream, treat yourself to a beautiful natural golden tan, which intensifies in 3-4 hours.
Its moisturizing properties leave you with softer, smoother and more luminous skin.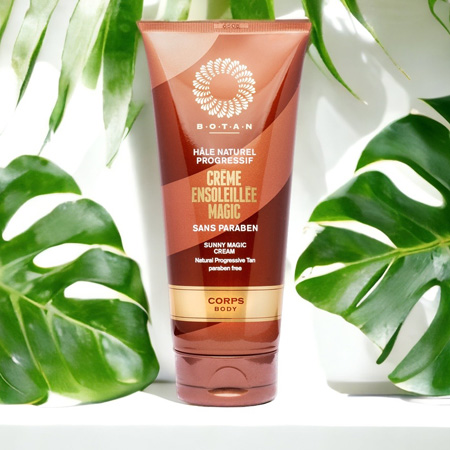 Simple and easy to apply, this cream is specially designed to provide an even and homogeneous tan all over the body. Its subtle scent of sweet almond provides a feeling of well-being.
BOTAN Self-Tanning Cream with Organic Aloe Vera provides a natural and even tan, allowing you to achieve a golden complexion without the risks associated with sun exposure. Its specially designed formula guarantees an even distribution of the product, thus avoiding unwanted streaks and stains. You can sport a flawless tan that looks like natural sunbathing.
Hydration is key to maintaining healthy, glowing skin. BOTAN Organic Aloe Vera Self-Tanning Cream is formulated to intensely hydrate the skin, avoiding the skin dryness often associated with traditional self-tanners. Your skin stays perfectly hydrated while getting a flawless tan, for a luminous and radiant complexion.
Ease of application of the self-tanning cream
BOTAN organic aloe vera self-tanning cream is easy to apply, whether you are a novice or a seasoned self-tanner. Its light texture allows an even distribution of the product, for a result without traces or stains. You can create your custom tan by applying the cream evenly according to your preferences.

Children (0-16 years old): not assessed
Pregnant women: No risk identified to date
Adults: No risk identified to date